Hi...
I have our 2 sons and a couple of their friends over for dinner on Thursday nights...Scott (my youngest) is a vegan and most of the others are vegetarians, so I have a challenge every week finding something fun and exciting to serve them each week! I love the challenge and have found and tried lots of vegan/vegetarian recipes...this taco pie was really great!
Enjoy
Vegan Taco Pie
Prep time 15 mins
Cook time 1 hour
Total time 1 hour 15 mins
Author: Kacey
Recipe type: Entree
Serves: 1 pie
Ingredients
1 cup lentils
4 cups water
Salt
1 tbsp. homemade taco seasoning *see below
½ cup salsa
2 cups leftover mashed potatoes (I cooked up 5 small potatoes and mashed them with apple cider vinegar, nutmeg, and some almond milk.)
1 tomato, diced
Lettuce, ripped or sliced
½ cup vegan sour cream (or use regular sour cream for non-vegan)
1 tsp. chili garlic sauce
Homemade Taco Seasoning:
1 tbsp. chili powder
½ tsp. garlic powder
¼ tsp. red chili flakes
½ tsp. dried oregano
½ tsp. paprika
1 tsp. cumin
1 tsp. kosher salt
½ tsp. black pepper
Instructions
To make the taco seasoning, combined all the seasoning ingredients and combine. Store in an airtight container.
Mix together your sour cream and the chili garlic sauce. Set aside,
Add the lentils, some salt, and water to a medium-sized saucepan. Place over high heat and bring to a boil. Reduce heat and simmer, uncovered, for about 15-20 minutes, or until tender. Drain any leftover liquid in the pot. *I tend to not overcook my lentils as I like them whole and a bit of texture to them. Up to you though. Add he taco seasoning and salsa. Adjust ratios accordingly if you feel as though you want a stronger taco seasoning flavour.
Preheat oven to 350F.
Take your leftover mashed potatoes and press them into a 9 or 10-inch pie pan. Try to get the potatoes up the side and push them firmly to create a "crust." Pop into the oven and bake for 15 minutes, or until lightly golden.) Remove from oven and pour in the lentils. Top with the sour cream mixture and try and spread it out nicely. Pop into the oven and bake for another 10-15 minutes or until the pie is nice and hot. Remove from oven and allow to cool slightly. Top with lettuce and tomatoes (and any other topping you see fit.)
*For non-vegans, feel free to add cheese and use regular sour cream. You would be surprised though at how tasty this dish is as a vegan meal. I didn't even miss the cheese!
Recipe by The Cookie Writer at
http://thecookiewriter.com/2014/08/vegan-taco-pie.html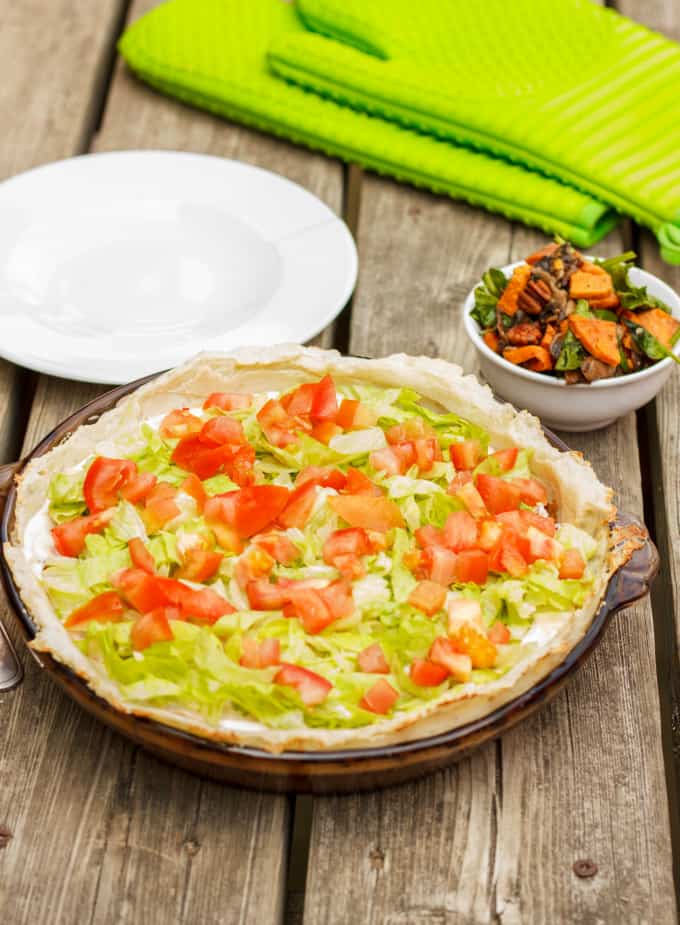 _________________
hugs,
peg

pstarkoski

Admin








Number of posts

: 12910


Age

: 72


Location

: Boynton Beach, florida


Job/hobbies

: crafts and cooking


Registration date :

2008-12-13





Similar topics
---
Permissions in this forum:
You
cannot
reply to topics in this forum